KAI Seki Magoroku Composite MGC-0401 15 cm

Product details
Ref :C461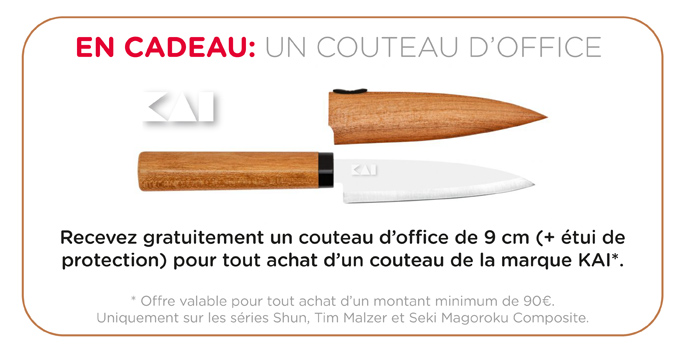 15 cm blade knife
Technical features:
15 cm long blade
9.5 cm long handle
The innovative series from Kai
The innovative Seki Magoroku Composite series includes 8 shapes of sharpened blades on both sides.
The blade is finely crafted with two types of steel that create a captivating contrast between the back of the satin blade and the polished edge mirror.
The mirror polished core of the blade is made of VG-10 steel with a hardness of 61-1 HRC and the satin exterior part of steel SUS420J2: a combination that guarantees the high corrosion resistance and long life of the blade.
Innovative manufacturing process
The Composite blade's manufacturing process is inspired by a new aeronautical construction technology that guarantees unrivalled stability and extreme precision.
The two steels are united thanks to a copper brazing technique that leaves visible the fine copper line between the two materials and thus adds a sophisticated stylistic detail.
The shape and beautiful cross vein of the light pakka wooden handle give these knives an extremely light dynamic.
Maintenance advice:
We recommend cleaning knives Kai by hand with a dishwashing liquid and hot water. Rinse with clear water and wipe with a cloth.
Do not put knives Kai in the dishwasher.
Customization
* fields required