Product details
Ref :C432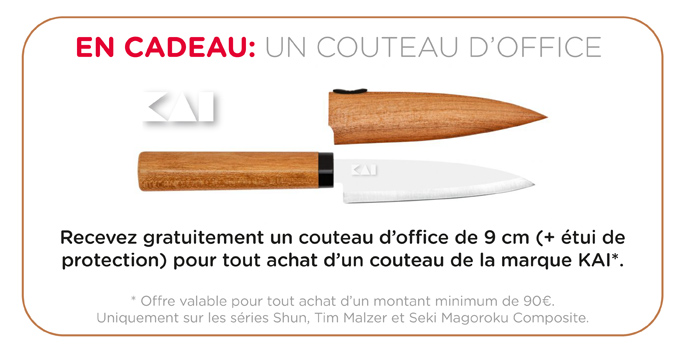 16 cm universal kitchen knife in hammered stainless steel damask steel. (CT-1701)
Technical features:
16 cm long blade
10.5 cm long handle
The damask knife par excellence
For the avant-garde series Tim Molzer Shun Premier, Kai has developed knives made from 32-layer damask stainless steel.
The blade is hammered by hand, a process known in Japan as Tsuchime, thus combining timeless aesthetic qualities with
an exceptional cutting edge.
The blades have a hard core in VG 10 with a hardness index of 61-1 HRC. An important grade has been brought to this range of knives that have exceptional grip and hardness.
The Tim Molzer Shun Premier Series provides professional cutting tools that will set new standards in the high-end segment by delivering exceptional performance and timeless design.
True to the principle of Tim Molzer, a good knife not only makes the job easier but also helps to make everything go well. Each of the Damascus knives manufactured with the utmost care has been particularly suitable for precise use by the Japanese master blacksmiths of Seki.
The symmetry of the edges and the walnut handle provide a cutting performance of great precision for right-handers or left-handers.
Maintenance advice:
We recommend cleaning knives Kai by hand with a dishwashing liquid and hot water. Rinse with clear water and wipe with a cloth.
Do not put knives Kai in the dishwasher.
Anonymous A. published the 21/05/2019 following an order made on 07/05/2019
Couteau de qualité, attention ca coupe fort !
Anonymous A. published the 27/12/2018 following an order made on 09/12/2018
Couteau Kai damas d'excellence facture. Du plaisir pour cuisiner.
Customization
* fields required