Product details
Ref :B871
Cast iron cocotte @9R5B0 41 cm diameter
The famous @3A0K7 casseroles are made of cast iron, the superior material that best retains heat, diffuses it slowly and distributes it perfectly evenly, for your enjoyment during cooking. Discover all the advantages that will allow you to create a modern kitchen.
Innovations
Thanks to the superior quality of the @9O5C8casserole lid, less moisture escapes during cooking. 10% more moisture is retained inside the casserole @7G3P2 after 55 minutes of cooking, compared to competing products.
The watering system consisting of pegs® spread over the flat inner surface of the lid ensures a "water drop" effect falling continuously on the food placed in the casserole.
Craft French manufacturing
The inside of the casseroles is made of matte black enamel for braising and roasting without tying. In addition, @4B6I2 casseroles are easy to clean and offer better resistance to scratches and high temperatures.
The casseroles are suitable for all heat sources, including induction and can also be baked. Each casserole has high-quality enamel, which provides high resistance to thermal shocks and scratches.
The benefits of natural and effective simmering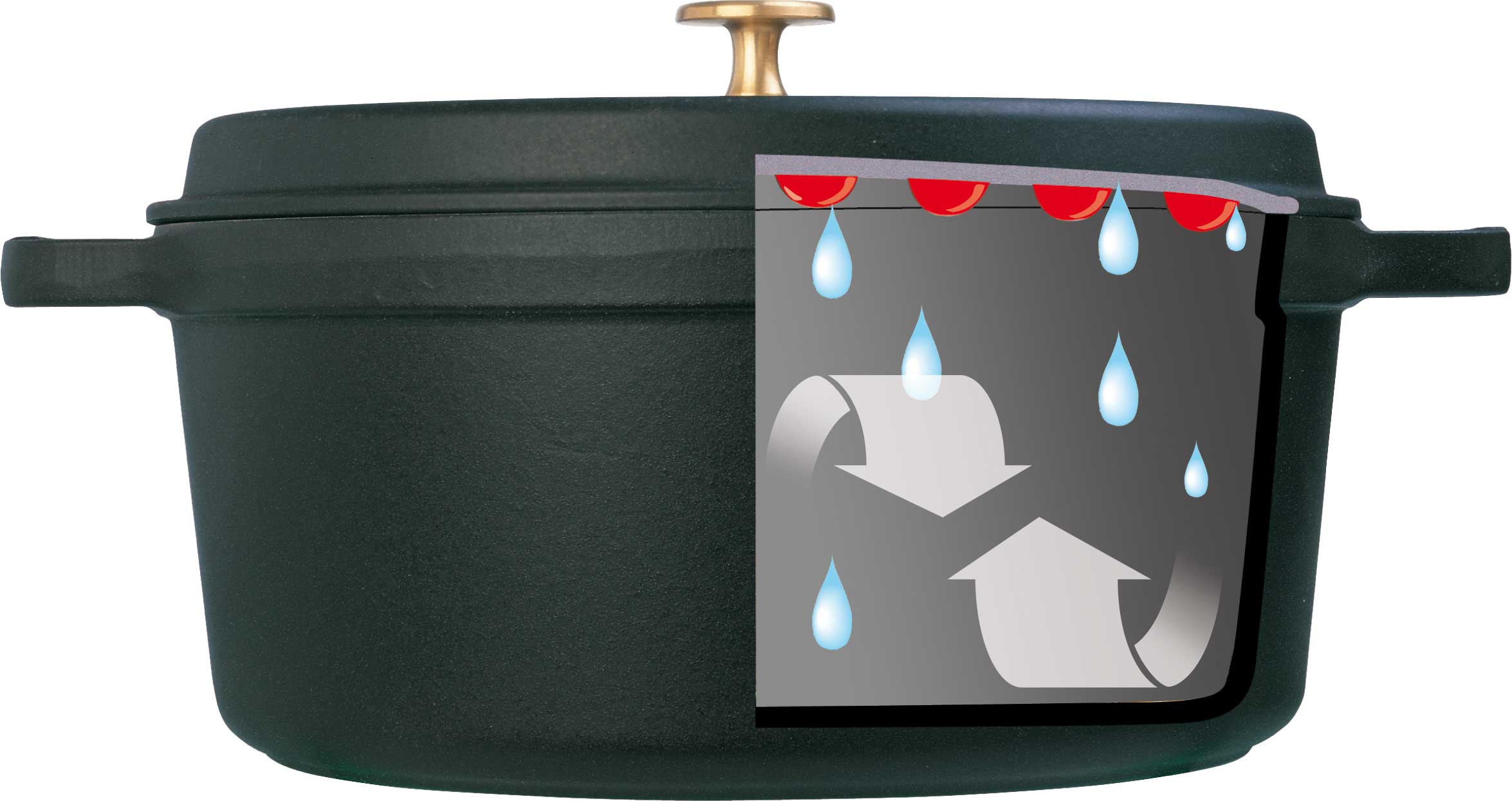 Find the real flavours with the peg pots and discover a pleasure and wellness cuisine thanks to the continuous watering @2R9S6
Selected by the world's most renowned chefs, the @1K7I0 casserole has a peg lid®, an innovation that allows condensation drops to fall evenly on the preparation. Meats remain tender, vegetables fluffy. The aromas and flavours are restored in all their intensity and the nutritional virtues are preserved. Whatever menu you concoct with the Cocotte @1E6L1, you have the confidence to enjoy yourself by taking care of yourself!
Tip for first use
Rinse your product with hot water and let it dry. Brush the inside with a little vegetable oil.
Heat over low heat for a few minutes and wipe off excess oil.
Your product is ready to use!
Technical features:
Outdoor cast iron black enamel, matte black interior
Easy maintenance: goes to the dishwasher
Guarantee: for life!
Length: 41 cm
Contain: 12 litres
Weight: 13 kilos
French manufacturing: traditional and authentic French craftsmanship
Compatible with all fires including induction

Expert opinion @5I6R4
There's nothing like the casseroles @4C2W1 to make all my slow-cooked dishes! French-made, the cast iron @4K5Y5 casseroles adapt to all forms of cooking (gas, induction, ceramics...), endure high temperatures and diffuse heat in a homogeneous way to mimic my stews, blanquettes, pottery, burgundy ...

The secret of my @9X6R9 casseroles lies in their peged lid that constantly lets the condensation drops back on the food. Continually hydrated, my meats and vegetables remain tender and juicy throughout cooking and retain their aromas and nutritional virtues to the delight of the taste buds.

It is not for nothing that these excellent quality casseroles have been adopted by the best chefs!

Their interior enamel finish, in addition to protecting them from scratches, makes them easier to clean. And when I don't use them, my @5U7M3 casseroles are beautiful decorative objects in my kitchen, with their retro style a little offbeat and their bright colors!